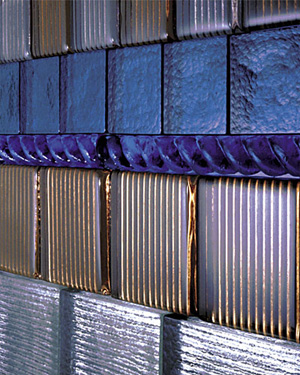 Since 1982, Architectural Glass, Inc. has been designing and manufacturing cast glass tiles and specialty glass products for architectural and interior design applications. Our client list includes Architects, Interior Designers, luxury cruise lines, five star hotels, casinos, corporate headquarters, restaurants and private residences. Our public art commissions can be found in railway stations, museums and aquariums on five continents.
We offer three distinct product lines:
The Studio Series is our line of hand cast glass tiles. The Studio Series is offered in a selection of shapes, sizes, colors and textures. These tiles are individually poured and pressed by hand.
The Lumé Series (pronounced "loo may") is our line of machine pressed 4" x 4" glass tile. The Lumé Series is offered in a selection of colors in Jewel (transparent glass) finish.
The Custom Mold Shop is an evolution of our talented product design team. We have collaborated with our architectural clients to create mold tooling for casting custom pieces.